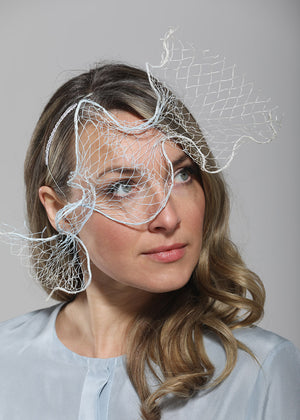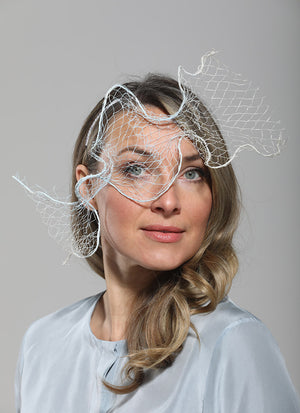 Wisp Ghost Net Veil Headpiece
Wisp Ghost Net veil headpiece in ivory with a hint of pastel blue
A virtually weightless headpiece of natural plant fibre sinamay veiling, wire and silk ribbon.
On narrow metal headband with side section wrapped in grey satin ribbon.
10% of the sale price will be donated to ghostdiving.org
This piece was created to highlight the issue of abandoned "ghost" fishing equipment adrift in our seas, endangering aquatic life. 
Leonora has no affiliation with this charity but has chosen to donate to them in particular as they have been involved in projects off the coast of Ireland. The donation of €19.50 will be made following the sale, and a receipt will be sent to you by email, if provided.
Sinamay veiling is a hand crafted natural alternative to traditional nylon veiling. It is made from fibres from the abaca tree.